About Us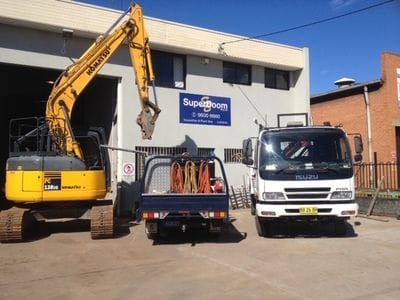 With over 20 years' experience in civil works, SuperBoom has the knowledge and expertise to deliver on key major projects.

Our experience extends across civil, rail and infrastructure works. Working closely with principal contractors and civil contractors, we have successfully delivered on key major projects being on-time and within budget.
A testament to our success is the repeat business SuperBoom receives from our major clients.

Our philosophy is to work closely with our clients through a hands-on approach. All our staff are fully trained in OH&S and are ready for site deployment.
Our services include;

Earthworks; having made significant investment in plant and equipment, we have one of the most modern fleet of plant and equipment for hire that complies with the latest OH&S requirements. Our range includes Komatsu, Volvo, Kobelco, Doosan, Takeuchi and others.

Environmental Solutions; our vacuum water truck is an environmentally friendly solution for the removal of on-site run off including sediment ponds.

SBC Transport Services; we have our own fleet of trucks for the transport of earth moving equipment. SuperBoom also offers haulage services.
Fabrication & Welding Services: full range of welding of fabrication services.

View SuperBoom's project list here.

Contact us to see how SuperBoom can set the foundation for your next project.